How to Attract a Wider Audience as a Keynote Speaker
Are You Looking for Ways to Attract a Wider Audience as a Keynote Speaker?
It's not easy, but there are things you can do to make it easier. In this article, we explore some ways that you can attract more audiences, including how to develop your brand and how to get professional photos of yourself.
Your Speaker Showreel
A showreel is a video that shows the impact you have had on your audience. It can be used as part of a keynote speaker proposal, used at the beginning of your talks, and/or shared on social media to generate interest in your work.
A good showreel will include:
A short introduction about yourself and what you do as a speaker
A highlight reel of some of your best talks (think 3 minutes long)
Professional Speaker Branding
Your speaker brand is the sum of all your interactions with people. It's how you present yourself, how you interact with others, and what they think of you when they are done interacting.
It's not just about your logo; it's about everything else as well.
Branding isn't just about the visual elements like logo design or colour palette—it's also about personality and character traits that come across in written communication, even if that writing takes place on social media platforms like Twitter or Facebook.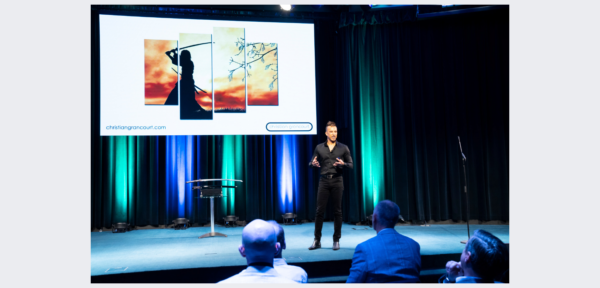 Professional Photos + Styling
If you want to look professional as a speaker, you need to be dressed appropriately. That means no sandals or shorts (unless you're on the beach), and definitely no jeans unless they're designer. It's also important to look like a professional speaker on stage —you don't want to be wearing shorts on stage while presenting on stage your keynote speech.
You also want people to recognize you in person from your branding photos online or in print. The best branding images are great at building profiles. You want your ideal clients to take action and say, "I should hire them for my next conference!"
Your Message
The message is the most important aspect of your keynote. Your audience has to know what you're trying to say, and they need it to be clear and concise. You also want them to understand why your message is relevant to them, which means that your keynote speech needs to target their needs.
If you're speaking at a tech conference, for instance, then the message should be all about the benefits of technology; if you're speaking at an advertising convention then your keynote could focus on how marketing and advertising related to technology. Finally, research has shown that speaker messages are more memorable when they rhyme or have some other pattern, especially stories that stick!
It Takes Effort to Attract a Wider Audience! You Need to Develop your Brand and put it to Work.
This is where it gets interesting—the audience may not know who you are when you're first starting out as an emerging speaker. They won't know what message you want them to take away from your keynote speech until later on down the line (if ever).
Event organizers, start looking through speaker lists for their next conference or event 6- 12 months beforehand, chances are they may gravitate toward your speaker brand if you do not have a speaker showreel that presents you in the best light for your message on stage. So how do we get your name out there?
Conclusion
So, you want to be a wide-reaching keynote speaker? Well, you're not alone. Many people have this idea that they can just show up and start speaking at conferences. But it takes more than just showing up and talking into the mic.
You need to develop your speaker brand visual assets and put in the work. You need to create an online presence that showcases who you are as well as what you have to say about the topic(s) relevant to your audience. Go get 'em..!!
Did you find these tips helpful? Let's connect, book a time HERE to discuss your personal brand, and let's ignite your brand magic!